ROSSIYSKAYA AKADEMIYA NAUK
DAL'NEVOSTOCHNOE OTDELENIE
Institut problem morskih tehnologiy
RUSSIAN ACADEMY OF SCIENCES
FAR EASTERN BRANCH
Institute for Marine Technology Problems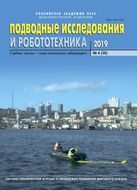 PODVODNYE ISSLEDOVANIYA I ROBOTOTEKHNIKA
Underwater Investigations and Robotics
№ 4/30 2019
NAUCHNO-TEHNICHESKIY ZHURNAL O PROBLEMAH OSVOENIYA MIROVOGO OKEANA
SCIENTIFIC AND TECHNICAL JOURNAL ABOUT EXPLORATION OCEAN PROBLEMS
CONTENTS
SYSTEMS, TECHNOLOGIES AND EXPERIMENTS
4 Konoplin A.Yu., Denisov V.A., Dautova T.N., Kuznetsov A.L., Moskovtseva A.V.
Technology of the ROVusing for comprehensive research of deep-sea ecosystems
MODELS, ALGORITHMS AND SOFTWARE
13 Eliseenko G.D., Inzartsev A.V., Pavin A.M.
Software platform for the development of distributed control systems in marine robotics
21 Sporyshev M.S., Shcherbatyuk A.F.
About some algorithms for the solution of the problem of patroling underwater environment by using a group of interacting of AUV
27 Vaulin Yu.V., Dubrovin F.S., Shcherbatyuk D.A., Shcherbatyuk A.F.
About AUVs group navigation methods: short review
SEA TECHNOLOGY FACILITY AND METHODS OF UNDERWATER RESEARCH
37 Kasatkin B.A., Zlobina N.V., Kasatkin S.B.
Border waves in the problem of detecting underwater noise sources
49 Kuz'kin V.M., Matvienko Yu.V., Pereselkov S.A.
Application of interferometric processing for localization of low noise sound sources
58 Khvorostov Yu.A., Matvienko Yu.V.
Features of intrinsic noise emission of a small-sized AUV
64 Zakharov A.N., Beloblovskiy V.N., Polishchuk S.V.
Determination of the spectral content of underwater noise of a thrust of an unmanned underwater vehicle