ROSSIYSKAYA AKADEMIYA NAUK
DAL'NEVOSTOCHNOE OTDELENIE
Institut problem morskih tehnologiy
RUSSIAN ACADEMY OF SCIENCES
FAR EASTERN BRANCH
Institute for Marine Technology Problems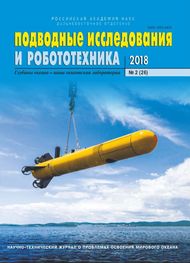 PODVODNYE ISSLEDOVANIYA I ROBOTOTEKHNIKA
Underwater Investigations and Robotics
№ 2/26 2018
NAUCHNO-TEHNICHESKIY ZHURNAL O PROBLEMAH OSVOENIYA MIROVOGO OKEANA
SCIENTIFIC AND TECHNICAL JOURNAL ABOUT EXPLORATION OCEAN PROBLEMS
CONTENTS
SYSTEMS, TECHNOLOGIES AND EXPERIMENTS
4 Vaulin Yu.V., Kostenko V.V., Mokeyeva I.G., Matviyenko Yu.V., Rylov N.I.
Traits of bottom sonar sources of navigation signal coordination with use of towed antenna module
12 Filaretov V.F., Konoplin A.Yu., Konoplin N.Yu.
Development and full-scale testing of intellectual support system for ROV operators
21 Sporyshev M.S., Scherbatyuk A.F.
About usage of marine robot groups for water area surveillance: brief review
MODELS, ALGORITHMS AND SOFTWARE
28 Inzartsev A.V., Eliseenko G.D., Panin M.A., Pavin A.M., Bobkov V.A., Morozov M.A.
Investigation of underwater pipeline inspection algorithms onboard the AUV via remote high-performance modeling framework
37 Matviyenko Yu.V., Kamornyy A.V., Khvorostov Yu.A.
On one approach to solving the problem of underwater source detection of noise signals
SEA TECHNOLOGY FACILITY AND METHODS OF UNDERWATER RESEARCH
44 Chupin V.A., Dolgikh G.I., Shcherbatyuk A.F.
Research of the time-space distribution of the acoustic field in the coastal area of the sea
49 Morgunov Yu.N., Golov A.A., Dubina V.A., Luchin V.A.
Methodology of the oceanological data application in high accuracy observation of underwater objects at long distances
55 Kasatkin B.A., Zlobina N.V., Kasatkin S.B.
Features of the spatial-frequency structure of the sound fields created by boundary waves of Rayleigh–Sholte
63 Makarov D.V.
Algorithm for reconstruction of an acoustic wavefield profile by means of pointwise measurements