ROSSIYSKAYA AKADEMIYA NAUK
DAL'NEVOSTOCHNOE OTDELENIE
Institut problem morskih tehnologiy
RUSSIAN ACADEMY OF SCIENCES
FAR EASTERN BRANCH
Institute for Marine Technology Problems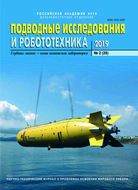 PODVODNYE ISSLEDOVANIYA I ROBOTOTEKHNIKA
Underwater Investigations and Robotics
№ 2/28 2019
NAUCHNO-TEHNICHESKIY ZHURNAL O PROBLEMAH OSVOENIYA MIROVOGO OKEANA
SCIENTIFIC AND TECHNICAL JOURNAL ABOUT EXPLORATION OCEAN PROBLEMS
CONTENTS
SYSTEMS, TECHNOLOGIES AND EXPERIMENTS
4 Kebkal K.G., Kebkal A.G., Glushko E.V., Kebkal V.K., Sebast'yao L., Paskoal' A., Ribeyro Dzh., Sil'va G., Ribeyro M., Indiveri Dzh.
Hydro-acoustic modems with integrated cesium clocks for positioning of autonomous underwater vehicles
13 Gerasimov V.A., Kraskovskiy M.V., Filozhenko A.Yu.
The transformer calculating method with flat screens for the underwater vehicle non-contact battery charge system
MODELS, ALGORITHMS AND SOFTWARE
23 Boreyko A.A., Inzartsev A.V., Mashoshin A.I., Pavin A.M., Pashkevich I.V.
Control system of high autonomy AUV on the base of multi-agents technology
32 Inzartsev A.V., Pavin A.M.
Mission Planning Language for Underwater Robots based on GeoJSON standard
41 Danilov A.V., Kropotov A.N.
Application of the method of «final rotation and displace-ment» for underwater manipulating robots of a sequen-tial structure with pantograph type links
SEA TECHNOLOGY FACILITY AND METHODS OF UNDERWATER RESEARCH
47 Tagil'tsev A.A., Bezotvetnykh V.V., Morgunov Yu.N., Strobykin D.S.
Experimental testing of a distributed vertical autonomous receiving system
54 Shchurov V.A., Lyashkov A.S., Tkachenko E.S., Shcheglov S.G.
Peculiarities of motion energy low-frequency signal in wave-guide shallow sea
62 Akulichev V.A., Bulanov V.A., Bugaeva L.K.
The influence of bubble clouds in the surface layer of the ocean to the sound attenuation and the structure of the acoustic field