ROSSIYSKAYA AKADEMIYA NAUK
DAL'NEVOSTOCHNOE OTDELENIE
Institut problem morskih tehnologiy
RUSSIAN ACADEMY OF SCIENCES
FAR EASTERN BRANCH
Institute for Marine Technology Problems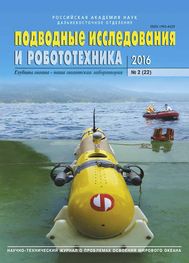 PODVODNYE ISSLEDOVANIYA I ROBOTOTEKHNIKA
Underwater Investigations and Robotics
№ 2/22 2016
NAUCHNO-TEHNICHESKIY ZHURNAL O PROBLEMAH OSVOENIYA MIROVOGO OKEANA
SCIENTIFIC AND TECHNICAL JOURNAL ABOUT EXPLORATION OCEAN PROBLEMS
CONTENTS
SYSTEMS AND TECHNOLOGIES
4 Matvienko Yu.V., Kiselev L.V., Inzartsev A.V., L'vov O.Yu.
On the project of development of underwater robotics complex for research of ultimate ocean depths
MODELS, ALGORITHMS AND SOFTWARE
13 Bobkov V.A., Kudrjashov A.P.
Creating 3D models of seabed by volumertic method
19 Bobkov V.A., Melman S.V., Tolstonogov A.Yu., Scherbatyuk A.F.
On some algorithms for visual navigation autonomous underwater vehicle using stereo
25 Inzartsev A.V., Bagnitckii A.V.
Motion path planning and implementation for AUV when monitoring in various types of water areas
36 Inzartsev A.V., Pavin A.M., Lebedko O.A., Panin M.A.
Small objects detection and survey using autonomous underwater vehicles
VECTORAL ACOUSTICS
44 Seleznev I.A., Glebova G.M., Zhbankov G.A., Mal'tsev A.M., Kharakhash'yan A.M.
Probabilistic signal detection characteristics obtained using vector-scalar sensor
SEA TECHNOLOGY FACILITY AND METHODS OF UNDERWATER RESEARCH
49 Maksimov A.O., Burov B.A., Salomatin A.S.
Sounds of underwater seeps
56 Bulanov V.A., Korskov I.V., Popov P.N., Storozhenko A.V.
Researches of sound scattering and attenuation, acoustic nonlinearity and cavitation strength of sea water in subsurface sea layer