ROSSIYSKAYA AKADEMIYA NAUK
DAL'NEVOSTOCHNOE OTDELENIE
Institut problem morskih tehnologiy
RUSSIAN ACADEMY OF SCIENCES
FAR EASTERN BRANCH
Institute for Marine Technology Problems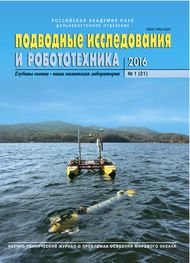 PODVODNYE ISSLEDOVANIYA I ROBOTOTEKHNIKA
Underwater Investigations and Robotics
№ 1/21 2016
NAUCHNO-TEHNICHESKIY ZHURNAL O PROBLEMAH OSVOENIYA MIROVOGO OKEANA
SCIENTIFIC AND TECHNICAL JOURNAL ABOUT EXPLORATION OCEAN PROBLEMS
CONTENTS
SYSTEMS AND TECHNOLOGIES
4 Goy V.A., Kostenko V.V.
Buoyancy control and trim autonomous underwater robots
15 Veltishchev V.V., Egorov S.A., Grigorev M.V., Gladkova O.I., Baskakova E.V.
Underwater survey of vessels with robotic technology
24 Gerasimov V.A., Kraskovskiy M.V., Kuvshinov G.E., Filozhenko A.Yu.
Improving the efficiency contactless transmission electricity on autonomous underwater vehicle models, algorithms and software models, algorithms and software
MODELS, ALGORITHMS AND SOFTWARE
31 Dubrovin F.S., Scherbatyuk A.Ph.
About method for precision estimation of mobile positionings operation for autonomous underwater vehicle using autonomous surface vehicle equipped with dGpS
41 Zolotarjov V.V.
Optimization of the directional characteristics of high-frequency side scan sonar sea technology facility and methods ofUnderwater research. Vectoral acoUstics
SEA TECHNOLOGY FACILITY AND METHODS OF UNDERWATER RESEARCH. VECTORAL ACOUSTICS
46 Kasatkin B.A., Zlobina N.V., Kasatkin S.B., Zlobin D.V., Kosarev G.V.
Vortical oscillatorin pekeris waveguide theory and experiment
56 Maksimov A.A., Gichev D.V., Vysotsky V.L., Filippov A.S., Tagiltsev A.A., Cheranev M.Yu., Goncharov R.A.
The search operation of the emergency flooded radioisotope thermoelectric generator by tracking it thermal field in a near-bottom layer of a sea
66 Obzhirov A.I., Boloban A.V., Venikova A.L.
Gas geochemical investigation and robotics to make engineer project on the marine bottom