ROSSIYSKAYA AKADEMIYA NAUK
DAL'NEVOSTOCHNOE OTDELENIE
Institut problem morskih tehnologiy
RUSSIAN ACADEMY OF SCIENCES
FAR EASTERN BRANCH
Institute for Marine Technology Problems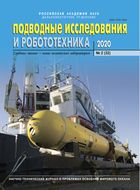 PODVODNYE ISSLEDOVANIYA I ROBOTOTEKHNIKA
Underwater Investigations and Robotics
№ 1/31 2020
NAUCHNO-TEHNICHESKIY ZHURNAL O PROBLEMAH OSVOENIYA MIROVOGO OKEANA
SCIENTIFIC AND TECHNICAL JOURNAL ABOUT EXPLORATION OCEAN PROBLEMS
CONTENTS
SYSTEMS, TECHNOLOGIES AND EXPERIMENTS
4 Kebkal K.G.
Numerical modeling of hiding properties of underwater acoustic communication signals with linear sweep of the carrier
13 BabaevR.A., Bolovin D.A., Boreyko A.A., Borovik A.I., Vaulin Yu.V., Konoplin A.Yu., Tregubenko D.I., Mikhaylov D.N., Shcherbatyuk A.F.
AUV application technology for studying the deep-sea ecosystems of the atlantic sector of the antarctic
MODELS, ALGORITHMS AND SOFTWARE
22 Vaulin Yu.V., Dubrovin F.S., Shcherbatyuk A.F., Shcherbatyuk D.A.
Hyperbolic navigation system for provision of the group operation of marine robotic complexes
34 Kostenko V.V., Mokeeva I.G.
The research of steady-state modes characteristics, and dynamics of tethered system of the autonomous underwater robot with towed surface radiocommunication module
SEA TECHNOLOGY FACILITY AND METHODS OF UNDERWATER RESEARCH
42 Kasatkin B.A., Kasatkin S.B.
The features of the combined receiver unit operation aboard underwater glider
49 Saljuk P.A., Stepochkin I.E., Zaharkov S.P., Ignat'eva E.S., Jakovleva D.A., Shupilo A.I., Kachur V.A., Nagornyj I.G.
The analysis of applicability of satellite data of sea color in Amursky bay in summertime
56 PivovarovA.A., Samchenko A.N., Shvyrev A.N., Yaroshchuk I.O.
Use of hydrophisical research complex in full-scale experiments on the shelf of the sea of Japan
62 Fishhenko V.K., Zimin P.S., Golik A.V., Goncharova A.A.
Utilization of stationary underwater surveillance systems for the estimation of underwater currents and sea disturbance parameters