ROSSIYSKAYA AKADEMIYA NAUK
DAL'NEVOSTOCHNOE OTDELENIE
Institut problem morskih tehnologiy
RUSSIAN ACADEMY OF SCIENCES
FAR EASTERN BRANCH
Institute for Marine Technology Problems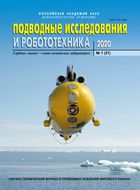 PODVODNYE ISSLEDOVANIYA I ROBOTOTEKHNIKA
Underwater Investigations and Robotics
№ 1/31 2020
NAUCHNO-TEHNICHESKIY ZHURNAL O PROBLEMAH OSVOENIYA MIROVOGO OKEANA
SCIENTIFIC AND TECHNICAL JOURNAL ABOUT EXPLORATION OCEAN PROBLEMS
CONTENTS
SYSTEMS, TECHNOLOGIES AND EXPERIMENTS
4 Gerasimov V.A., Komlev A.V., Filozhenko A.Yu.
Means of the performance enhancement of autonomous underwater vehicle battery charging system
MODELS, ALGORITHMS AND SOFTWARE
13 Dunaevskaya K.V., Kiselev L.V., Kostousov V.B., Tarhanov A.E.
Accuracy evaluation of the correlation-extreme navigation system according to a local gravity map based on trajectory measurements made by an autonomous underwater vehicle
21 Dubrovin F.S., Vaulin Yu.V., Kostenko V.V., Lvov O.Yu.
About the accuracy of positioning the underwater module based on measured movement parameters of a towed system
30 Vaulin Yu.V., Dubrovin F.S., Panin M.A., Lvov O.Yu.
Localization of the stationary deep-sea underwater acoustic equipment using multilateration method
SEA TECHNOLOGY FACILITY AND METHODS OF UNDERWATER RESEARCH
36 Golov A.A., Morgunov Yu.N., Sorokin M.A., Petrov P.S.
The results of experimental and theoretical researches of pulsed signals propagation in shallow sea along the edge of continental shelf
42 Bulanov V.A., Korskov I.V., Storozhenko A.V., Sosedko S.N.,
Investigation of acoustical properties of upper layer of the sea by multifrequency acoustic probing
56 Pakhomov S.A., Shostak S.V.
Space-time processing of complex broadband signals through harmonic decomposition
60 Fishchenko V.K., Zimin P.S., Zatserkovnyy A.V., Subote A.E., Golik A.V., Goncharova A.A.
Stationary systems for underwater video surveillance of coastal water areas