ROSSIYSKAYA AKADEMIYA NAUK
DAL'NEVOSTOCHNOE OTDELENIE
Institut problem morskih tehnologiy
RUSSIAN ACADEMY OF SCIENCES
FAR EASTERN BRANCH
Institute for Marine Technology Problems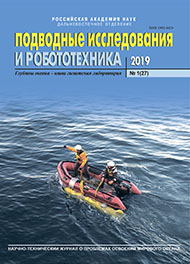 PODVODNYE ISSLEDOVANIYA I ROBOTOTEKHNIKA
Underwater Investigations and Robotics
№ 1/27 2019
NAUCHNO-TEHNICHESKIY ZHURNAL O PROBLEMAH OSVOENIYA MIROVOGO OKEANA
SCIENTIFIC AND TECHNICAL JOURNAL ABOUT EXPLORATION OCEAN PROBLEMS
CONTENTS
SYSTEMS, TECHNOLOGIES AND EXPERIMENTS
4 Kostenko V.V., Tolstonogov A.Yu.
Control of the depth of immersion of the underwater vehicle equipped with system for regulating of the buoyancy
12 Keresten' I.A., Mikhaylov A.A., Voynov I.B., Borovkov A.I.
Numerical simulation of tensile cablelaying on to sea bed from moving vessel with account of hydrodynamic water resistance forces
MODELS, ALGORITHMS AND SOFTWARE
21 Kiselev L.V., Kostousov V.B., Medvedev A.V., Tarhanov A.E.
About gravimetry of on-board autonomous underwater robot and estimates of its informative for navigation on the map
31 Konoplin A.Yu., Konoplin N.Yu., Shuvalov B.V.
Approach for performing of technological manipulation operations with various underwater objects by AUV
SEA TECHNOLOGY FACILITY AND METHODS OF UNDERWATER RESEARCH
38 Kasatkin B.A., Kasatkin S.B.
Experimental assessment of noise stability of the combined receiver in infrasonic frequency range
48 Morgunov Yu.N., Kamenev S.I., Bezotvetnyh V.V., Petrov P.S.
Investigation of the possibility of positioning autonomous underwater vehicles when performing deepwater missions
55 Seleznev I.A., Glebova G.M., Zhbankov G.A., Kharakhash'yan A.M.
Experimental study of the vector-scalar structural noise characteristics
62 Budrin S.S., Dolgikh G.I.
Estimation of the space-time distribution of the main parameters of the wind wave by means of the general function of changing the period for the reservoir of final depth in approximation of shallow sea