ROSSIYSKAYA AKADEMIYA NAUK
DAL'NEVOSTOCHNOE OTDELENIE
Institut problem morskih tehnologiy
RUSSIAN ACADEMY OF SCIENCES
FAR EASTERN BRANCH
Institute for Marine Technology Problems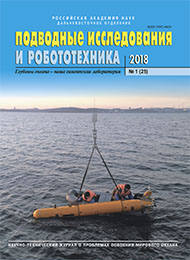 PODVODNYE ISSLEDOVANIYA I ROBOTOTEKHNIKA
Underwater Investigations and Robotics
№ 1/25 2018
NAUCHNO-TEHNICHESKIY ZHURNAL O PROBLEMAH OSVOENIYA MIROVOGO OKEANA
SCIENTIFIC AND TECHNICAL JOURNAL ABOUT EXPLORATION OCEAN PROBLEMS
CONTENTS
SYSTEMS, TECHNOLOGIES AND EXPERIMENTS
4 Kebkal K.G., Kebkal А.G., Kebkal V.K., Sebastião L., Pascoal A., Ribeiro J., Indiveri G., Kelholt E., Jesus S., Mantouka A.
Performance evaluation of a two-channel digital hydroacoustic communication in presence of strong impulsive noise
12 Zolotarev V.V., Inzartsev A.V., Khodorenko M.S.
On the question of the mutual influence of sonar devices when performing a survey by a group of autonomous underwater robots
21 Gerasimov V.A., Komlev A.V., Kraskovskiy M.V., Filozhenko A.Yu.
Transformer design parameters calculation method of the non-contact charging system batteries underwater vehicle
MODELS, ALGORITHMS AND SOFTWARE
30 Filaretov V.F., Gubankov A.S., Gornostaev I.V., Konoplin A.Yu.
Development of formation method of program control signals of manipulators installed on underwater vehicles/b>
OCEAN VECTORAL ACOUSTICS
38 Shchurov V.A., Lyashkov A.S.
Vortex structure of the acoustic intensity vector in the real conditions of the shallow sea
SEA TECHNOLOGY FACILITY AND METHODS OF UNDERWATER RESEARCH
46 Kasatkin B.A., Kasatkin S.B.
Features of distribution and interference of normal waves in the waveguide system the water layer – the seabed with low shift elasticity
59 Kochetov O.Yu., Ostrovskiy A.G., Volkov S.V., Ol'shanskiy V.M.
Ahardware and software platform unified for control systems of an autonomous underwater profiling vehicles
66 Obzhirov A.I., Telegin Yu.A., Okulov A.K.
Gasgeochemical fields and natural gases distribution in the far eastern seas