ROSSIYSKAYA AKADEMIYA NAUK
DAL'NEVOSTOCHNOE OTDELENIE
Institut problem morskih tehnologiy
RUSSIAN ACADEMY OF SCIENCES
FAR EASTERN BRANCH
Institute for Marine Technology Problems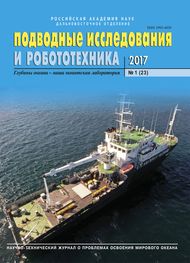 PODVODNYE ISSLEDOVANIYA I ROBOTOTEKHNIKA
Underwater Investigations and Robotics
№ 1/23 2017
NAUCHNO-TEHNICHESKIY ZHURNAL O PROBLEMAH OSVOENIYA MIROVOGO OKEANA
SCIENTIFIC AND TECHNICAL JOURNAL ABOUT EXPLORATION OCEAN PROBLEMS
CONTENTS
SYSTEMS AND TECHNOLOGIES
4 Vaulin Yu.V., Inzartsev A.V., Lvov О.Yu., Matvienko Yu.V., Pavin А.М.
The configurable navigation and control system for multifunction underwater robots
14 Oparin A.I., Pechnikov A.N.
On some problems of formation and use of groups of heterogeneous mobile robotic systems and approaches to their solution
23 Bukin O.A., Mayor A.Yu., Proschenko D.Yu., Bukin I.O., Moun S.A., Lyakhov D.G., Chekhlenok A.A., Bolotov V.V., Burov D.V.
Laser sensor elements of underwater robotics
PROJECTS AND EXPERIMENTS
31 Kostenko V.V., Lvov O.Yu.
Combined systems of communication and navigation for autonomous underwater robot equipped with a float towed unit
44 Filaretov V.F., Konoplin A.Yu., Konoplin N.Yu.
Approach for development of information control systems for remotely operated underwater vehicles
50 Chensky D.A., Grigoriev K.A., Chensky A.G.
Remote control automatic system (RCAS) of unmanned surface vehicle
SEA TECHNOLOGY FACILITY AND METHODS OF UNDERWATER RESEARCH
57 Morgunov Yu.N.
The acoustic underwater rangefinding peculiarities in the Sea of Japan winter hydrological conditions
62 Chupin V.A., Budrin S.S., Dolgikh G.I., Dolgikh S.G., Pivovarov A.A., Samchenko A.N., Shvyrev A.N., Shvets V.A., Yakovenko S.V., Yaroshchuk I.O.
Development of methods of the seabed tomography the water areas, covered with ice. The first experiment
68 Okulov A.K., Obzhirov A.I., Mishukova G.I., Okulov Al.K.
Methane distribution of the water Peter Great Gulf