ROSSIYSKAYA AKADEMIYA NAUK
DAL'NEVOSTOCHNOE OTDELENIE
Institut problem morskih tehnologiy
RUSSIAN ACADEMY OF SCIENCES
FAR EASTERN BRANCH
Institute for Marine Technology Problems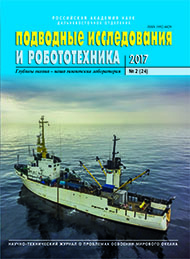 PODVODNYE ISSLEDOVANIYA I ROBOTOTEKHNIKA
Underwater Investigations and Robotics
№ 2/24 2017
NAUCHNO-TEHNICHESKIY ZHURNAL O PROBLEMAH OSVOENIYA MIROVOGO OKEANA
SCIENTIFIC AND TECHNICAL JOURNAL ABOUT EXPLORATION OCEAN PROBLEMS
CONTENTS
SYSTEMS, TECHNOLOGIES AND EXPERIMENTS
4 Mikhaylov D.N., Senin R.N., Dubrovin F.S., Boreyko A.A., Styrkul R.I., Khramov O.A.
Autonomous underwater vehicle application for hydrographic research in the Sea of Okhotsk
14 Vaulin Yu.V., Dubrovin F.S., Shcherbatyuk A.F.
AUV MMT-3000 integrated positioning and communication system and experience of its operation in deep-water extended routes
MODELS, ALGORITHMS AND SOFTWARE
20 Mashoshin A.I.
The accuracy investigation of the autonomous unmanned vehicle single beacon navigation algorithm
28 Borovik A.I.
AUV control system developing and testing using the RCE framework
SEA TECHNOLOGY FACILITY AND METHODS OF UNDERWATER RESEARCH
36 Matvienko Yu.V., Morgunov Yu.N., Strobykin D.S.
Formation features of spatial structure of vector-phase acoustic fields under conditions of the Japan Sea shelf zone
41 Kasatkin B.A., Zlobina N.V., Kasatkin S.B., Zlobin D.V., Kosarev G.V.
Estimation of combined reciever noise immunity in sound field of shallow water
52 Seleznev I.A., Glebova G.M., Zhbankov G.A., Kharakhash'yan A.M
Vector-scalar onboard receiver system characteristics
60 Vasilenko A.M., Pyatakovich V.A.
Analytical properties and functionality of the system for calculation of the spatial structure and parameters of a hydroacoustic field
REPORTS
68 Results of sevens all-russia scientific and technical conference «Technical problems of world ocean exploration» (TPWOE-7) (L.V. Kiselev)