ROSSIYSKAYA AKADEMIYA NAUK
DAL'NEVOSTOCHNOE OTDELENIE
Institut problem morskih tehnologiy
RUSSIAN ACADEMY OF SCIENCES
FAR EASTERN BRANCH
Institute for Marine Technology Problems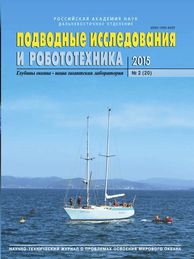 PODVODNYE ISSLEDOVANIYA I ROBOTOTEKHNIKA
Underwater Investigations and Robotics
№ 2/20 2015
NAUCHNO-TEHNICHESKIY ZHURNAL O PROBLEMAH OSVOENIYA MIROVOGO OKEANA
SCIENTIFIC AND TECHNICAL JOURNAL ABOUT EXPLORATION OCEAN PROBLEMS
CONTENTS
SYSTEMS AND TECHNOLOGIES
4 Inzartsev A.V., Gribova V.V., Kleshchev A.S.
Intelligent system for elaboration of AUV adequate behavior in emergency situations
12 Kebkal K.G., Kebkal V.K., Kebkal A.G.
Digital hydroacoustic networks for communication in conditions of long delays and breaks the connection: an experimental research
MODELS, ALGORITHMS AND SOFTWARE
20 Inzartsev A.V., Matvienko Yu.V., Pavin A.M., Rylov N.I.
Technologies of seabed monitoring based on intelligent processing of search systems' data onboard the autonomous underwater vehicle
28 Inzartsev A.V., Pavin A.M., Eliseenko G.D., Rod'kin D.N., Sidorenko A.V., Lebedko O.A., Panin M.A.
Reconfigurable cross-platform simulator for autonomous underwater vehicle
SEA TECHNOLOGY FACILITY AND METHODS OF UNDERWATER RESEARCH
35 Chupin V.A., Budrin S.S., Dolgikh G.I., Pivovarov A.A., Samchenko A.N., Shvyrev A.N., Yaroshchuk I.O.
Seasonal dependence of transformation coefficient of hydro­acoustic inseismoacoustic waves on border "water-bottom"
40 Polovinka Yu.A.
Correction of errors and selective tracking of impulses in streaming data of acoustic sounding
46 Dolgikh V.N., Ushakov K.A.
Methods of formation of the response and the results of the probabilistic characteristics of the detected signals of the correlation detectors
53 Shakirov R.B.
Gasgeochemical fields of the Okhotsk and Japan Seas regions
65 Kiselev L.V.
Results of sixth All-Russia scientific and technical conference «Technical problems of world ocean exploration» (TPWOE-6)